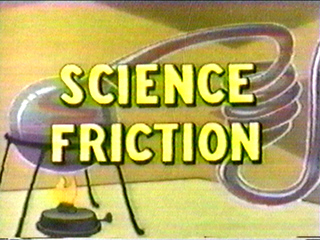 Science Friction is the 130th animated cartoon short subject in the Woody Woodpecker series. Released theatrically on November in 1962, the film was produced by Walter Lantz Productions and distributed by Universal Studios.
A mad scientist introduces himself to us ("Come! I show you around!") and explains his specialty is crossing things ("I cross a pine mit a apple and I get a pineapple!"). His biggest ambition is cross his pet ape with something but doesn't know what. Enter Woody who comes to his door selling magazines. The scientist decides to cross the ape with a woodpecker and create a flying ape. Woody naturally doesn't want the experiment to take place and tries to flee the scientist's house after being captured. In the end, though, it's the ape who gets the last laugh...
Ad blocker interference detected!
Wikia is a free-to-use site that makes money from advertising. We have a modified experience for viewers using ad blockers

Wikia is not accessible if you've made further modifications. Remove the custom ad blocker rule(s) and the page will load as expected.