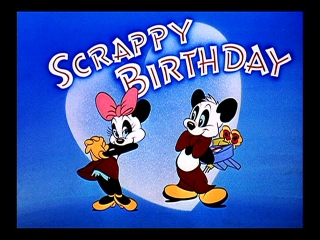 Scrappy Birthday is a 1949 short starring Andy Panda and also featuring his girlfriend, Miranda Panda, in her first and only appearance. This is the last of the Andy Panda series.
For her birthday, Andy presents his sweetheart, Miranda, with her usual present, candy and flowers. Miranda complains she wants something decent for her birthday like a fur coat...which Andy can't afford. A con man tells him he doesn't need money. He sells him a tracking hound and tells him he can hunt for the fox himself. Unfortunately, the fox Andy and his hound find has no intentions of being caught. Eventually, Andy does capture an animal to make a fur stole with. It's not the fox but, rather, something that's more of a surprise.
Ad blocker interference detected!
Wikia is a free-to-use site that makes money from advertising. We have a modified experience for viewers using ad blockers

Wikia is not accessible if you've made further modifications. Remove the custom ad blocker rule(s) and the page will load as expected.