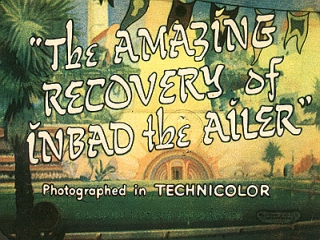 The Amazing Recovery of Inbad the Ailer is a 1939 Misc short.
This industrial cartoon was made by the Lantz studio for Saraka Laxative, a product of the Schering Corporation. It was exhibited at the 1939 New York World's Fair and has not been seen since. No print of The Amazing Recovery of Inbad the Ailer is known to exist, and is therefore considered as a lost cartoon. An 18-page color storybooklet featuring stills from the film is all that is known to exist of it. The title card presented here is from this booklet and the bottom text indictating that the film is "A Walter Lantz Production" has been noticeably air-brushed out.
Ad blocker interference detected!
Wikia is a free-to-use site that makes money from advertising. We have a modified experience for viewers using ad blockers

Wikia is not accessible if you've made further modifications. Remove the custom ad blocker rule(s) and the page will load as expected.