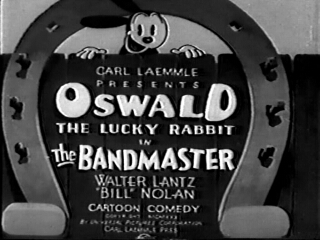 The Bandmaster is a 1931 Oswald the Lucky Rabbit cartoon.
post it
Copyrighted as The Band Master
Incorrectly listed as The Band Master in Michael Fitzgerald's Universal Pictures
Includes reused animation from My Pal Paul (1930)
Not to be confused with The Bandmaster (1947)
The songs Ragamuffin Romeo (written by Mabel Wayne and Harry DeCosta) and Happy Feet (written by Milton Ager and Jack Yellen) are featured on the soundtrack of this cartoon. Both were written in 1930 for Universal's King of Jazz and both appear in this short in sequences that were more-or-less reused from My Pal Paul (1930).
Ad blocker interference detected!
Wikia is a free-to-use site that makes money from advertising. We have a modified experience for viewers using ad blockers

Wikia is not accessible if you've made further modifications. Remove the custom ad blocker rule(s) and the page will load as expected.