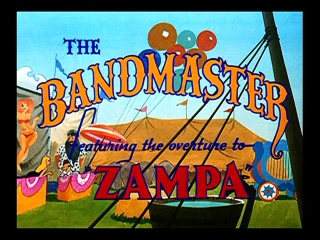 The Bandmaster is a 1947 short starring Andy Panda.
Andy Panda goes to the circus, and the circus turns into a circus where a girl aerialist is rescued by her own false teeth; the acrobats and jugglers mangle each other; a girl trapeze artist loses her wig as a rope-spinning act goes haywire; and the drunken high-wire walker finds himself surrounded by pink elephants.
Ad blocker interference detected!
Wikia is a free-to-use site that makes money from advertising. We have a modified experience for viewers using ad blockers

Wikia is not accessible if you've made further modifications. Remove the custom ad blocker rule(s) and the page will load as expected.