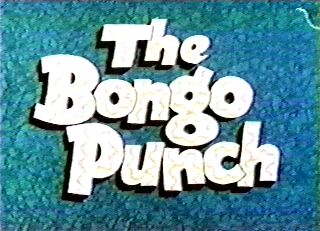 The Bongo Punch
is an 1957 cartoon that first and only featured
Pepito Chickeeto
.
In a musical story from old Mexico, we learn how Pepito Chickeeto made his father happy becoming boxing champion, but also satisfied his own wish to play the bongo drums. Pepe Chickeeto, the world's champion cockfighter, is knocked out in the boxing championship, losing the match and the title. Disgraced and discouraged, he returns home and tells his hen. She breaks the news that she's expecting a little chick. Pepe is thrilled, anxiously anticipating the arrival of the "new champ." The baby is named Pepito Chickeeto, and father brings him up with but one thought in mind: to have his son become the world's champion cockfighter. A rigid training schedule is laid out for Pepito, but his heart is not in fighting; he loves bongo music, and he's only happy when he can beat the drums. Pepito pounds on drums, or anything resembling them, at every opportunity until he almost drives his father crazy. Pepito's mother would like to have him pursue a musical career, but she's afraid to cross her husband, so poor Pepito must train and fight from early dawn till late at night. Finally comes the day when Pepito's ready, and a match is arranged with the world's champion. A huge crowd assembles, and Pepe prays that the championship which he lost will be regained by Pepito. But- alas- Pepito lacks his father's fighting instincts, and Pepito's knocked from the ring by a solid blow from the champion. Pepito's ready to quit, but Papa kicks Pepito back into the ring. Pepito lands with his foot caught in a pail. He kicks it loose, and it flies into the air and lands, bottom side up, on the champion's head. In his dazed condition, Pepito mistakes the pail for a drum. He jumps wildly on the champion and starts beating out a dance routine on the pail. As the rhythmic pattern increases in intensity, Pepito beats harder and harder on the head of his antagonist and finally knocks him out. Thus, Pepito wins a fight- and the title- with his "Bongo Punch".
Ad blocker interference detected!
Wikia is a free-to-use site that makes money from advertising. We have a modified experience for viewers using ad blockers

Wikia is not accessible if you've made further modifications. Remove the custom ad blocker rule(s) and the page will load as expected.