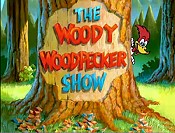 The New Woody Woodpecker Show
is an
animated television series
based on the
original cartoon
by
Walter Lantz
, produced by
Universal Animation Studios
and aired from 1999 until 2002 on
FOX
(United States) and BBC (United Kingdom)
The Woody Woodpecker Show
with characters from the classic series and a few new ones appearing in their own segments.
Characters
Edit
Other characters
Edit
List of The New Woody Woodpecker Show episodes
Edit
Main article: List of The New Woody Woodpecker Show episodes
Principal Voice Actors
Edit
Additional Voices
Edit
In Brazil was released the DVD "Pica-pau Sai de Férias", and in Spanish the DVD "Pajaro Loco: Pánico Escénico y Otras Aventuras" from these series. Few DVDs were released in the UK, previously on VHS. Some episodes from the first and second seasons can now be viewed on Hulu.com. As of January 22, 2010, Universal Studios Home Entertainment, in spite of this, has yet to announce any current plans to release the show on DVD in the United States. On below is the Spanish DVD cover.
Ad blocker interference detected!
Wikia is a free-to-use site that makes money from advertising. We have a modified experience for viewers using ad blockers

Wikia is not accessible if you've made further modifications. Remove the custom ad blocker rule(s) and the page will load as expected.