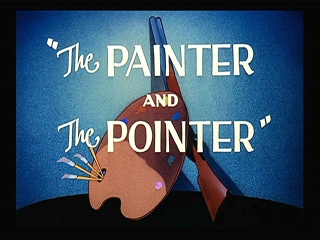 The Painter and the Pointer is a 1944 short starring Andy Panda.
Andy Panda is the painter and his dog, Butch, is the pointer, and Andy is trying to paint a portrait of Butch doing what a bird-dog is supposed to do...standing still and pointing to the game-bird. But Butch won't stand still. Andy's solution is to rig a gun to go off if Butch moves a muscle. Butch gamely resists all temptations to move but a couple of spiders carry him off in their web, with the gun going off repeatedly and peppering Butch's posterior.
Andy Panda's appearance
Edit
This cartoon features a very different design of Andy Panda. Apparently, it failed to gain favor with audiences and was never used again for any subsequent releases. Andy's usual happy-go-lucky personality seems to have changed here as well. By his behavior, the "new Andy" could easily pass as Andy's evil twin brother.
Ad blocker interference detected!
Wikia is a free-to-use site that makes money from advertising. We have a modified experience for viewers using ad blockers

Wikia is not accessible if you've made further modifications. Remove the custom ad blocker rule(s) and the page will load as expected.