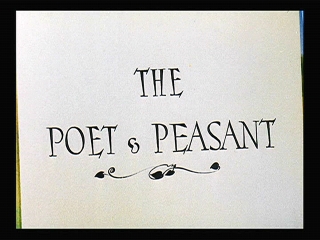 The Poet and Peasant is a 1946 short starring Andy Panda.
Andy Panda conducts the "Hollywood Washbowl Orchestra" (an ensemble of farm animals, on a farm) in the title tune. After Andy removes a frog from under his wig, he begins. All is well until his shirt gets stuck on a nail; while he's fighting it, the orchestra breaks into a swinging tune. Back under control, a talkative squirrel in the audience annoys the pig sitting next to him; the pig zips the squirrel's mouth shut. A bird lands on Andy's baton; he waves it, and 2, 3, 4, and 5 birds appear (apparently, his baton's become a magic wand). He waves some more, and the birds disappear one by one, finally replaced with a very happy cat. Two ducks dance as ballerinas; then one fox and one duck, but the second duck is not as easily captured.
Ad blocker interference detected!
Wikia is a free-to-use site that makes money from advertising. We have a modified experience for viewers using ad blockers

Wikia is not accessible if you've made further modifications. Remove the custom ad blocker rule(s) and the page will load as expected.