The Screwball is the seventh animated cartoon short subject in the Woody Woodpecker series. Released theatrically on February 15, 1943, the film was produced by Walter Lantz Productions and distributed by Universal Pictures. The film is set at a baseball park. It features Kent Rogers as the voice of Woody Woodpecker and Harold Peary as the voice of the policeman. Both men are uncredited in the title card for their voice roles. It would also the last onscreen credit for director/animator Alex Lovy on a Woody cartoon for 12 years. (He would however direct one more short, uncredited, before leaving the studio: The Dizzy Acrobat.)
A huge crowd gathers at a baseball park for a game between the Droops and the Drips. A lone policeman stands at the park gate discouraging spectators who have not paid to see the game. Woody notices that kids returning baseballs can get in for free, so he tosses the policeman a cannonball and enters the park.
Woody tries to watch the game but the policeman finds him. He escapes by shaking a
soda pop
bottle and spraying it into his adversary's face, adding "No stopper, Copper!"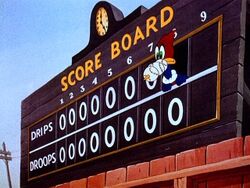 Woody joins the game as the pitcher for the Drips. When he is up to bat, he causes so much trouble that the entire team chases him along the baselines while the policeman waits for him at home plate. He escapes by pecking his way through a barrage of baseball bats. However, Woody ends up not getting away with murder, being assaulted with a barrage of baseballs as soon as he pops out of the park's scoreboard.
Cultural references
Edit
"Take Me Out to the Ball Game" can be heard in the background score during the establishing shot of the baseball park. The music is used sporadically throughout the film.
References
Edit
*Cooke, Jon, Komorowski, Thad, Shakarian, Pietro, and Tatay, Jack. "
1943
".
The Walter Lantz Cartune Encyclopedia
.
Ad blocker interference detected!
Wikia is a free-to-use site that makes money from advertising. We have a modified experience for viewers using ad blockers

Wikia is not accessible if you've made further modifications. Remove the custom ad blocker rule(s) and the page will load as expected.