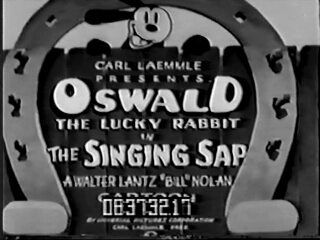 The Singing Sap
is a 1930
Oswald the Lucky Rabbit
cartoon.
plot it
First cartoon co-directed by William "Bill" Nolan.
First onscreen credits for Fred "Tex" Avery and Lester Kline.
First time James Dietrich is credited under "Musical Score" instead of "Synchronization and Score"
This cartoon's title is a play on the 1928 Warner Bros. feature The Singing Fool starring Al Jolson. Pinto Colvig provides the voice of the hippo in this short.
Ad blocker interference detected!
Wikia is a free-to-use site that makes money from advertising. We have a modified experience for viewers using ad blockers

Wikia is not accessible if you've made further modifications. Remove the custom ad blocker rule(s) and the page will load as expected.