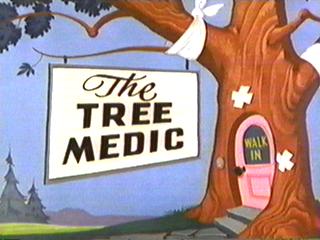 The Tree Medic is the 65th animated cartoon short subject in the Woody Woodpecker series. Released theatrically on December 19, 1955, the film was produced by Walter Lantz Productions and distributed by Universal International.
Woody's new look
Edit
The Tree Medic marked one final change to Woody's look; his eyes were now simple black dots, having eliminated the usual light brown/green/light blue pigmentation around his eyes. The diminutive woodpecker also shrunk in size even more, making him more stylized.
It was this simple version of Woody that became his official look for the remainder of the series.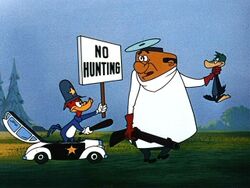 The Tree Medic marked Alex Lovy's return at directing a Woody Woodpecker cartoon since 1943's The Dizzy Acrobat. He would continue directing shorts in the series until 1960's Ballyhooey.
References
Edit
Cooke, Jon, Komorowski, Thad, Shakarian, Pietro, and Tatay, Jack. "1955". The Walter Lantz Cartune Encyclopedia.