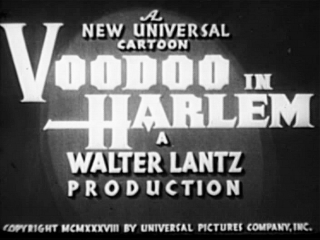 Voodoo in Harlem
is a 1938
New Universal Cartoons
cartoon.
It's midnight in Walter Lantz's animation studio when an ink bottle spills. Out come dancing, singing cannibals.
An animator leaves his work room, and a storm comes up and blows his drawing paper around and overturns the inkwell. Large blotches of ink fall on the sheets of paper, and become wild African warriors and Harlem jitterbugs as the wind howls outside. Comes the dawn, the storm ends, and the inky figures return to the inkwell. The maid comes in to clean the workroom, and finds nothing by ink smudges on scattered sheets of paper.
Ad blocker interference detected!
Wikia is a free-to-use site that makes money from advertising. We have a modified experience for viewers using ad blockers

Wikia is not accessible if you've made further modifications. Remove the custom ad blocker rule(s) and the page will load as expected.