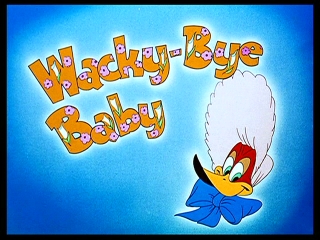 Wacky-Bye Baby is the 28th animated cartoon short subject in the Woody Woodpecker series. Released theatrically on May 2, 1948, the film was produced by Walter Lantz Productions and distributed by United Artists.
Woody has been kicked out of the city park and is now trying to find a new place to live. He reads in the newspaper that millionaire Wally Walrus is looking to adopt a son. So Woody disguises himself as a baby boy, and works his way to Wally's doorstep. Wally takes in the disguised woodpecker, who in turn proceeds to eat as much food as possible before a chase ensues.
After Wacky-Bye Baby Woody would no longer make his entry from a full tree during in the opening titles. Beginning with Wet Blanket Policy, Woody would make his entry through a light brown-colored wood plank/board background. The woodpecker would now peck though a plank (light brown, red, or light balsa colored) for the release (and re-release) of most of the 1948-1972 entries of the Woody Woodpecker series.
References
Edit
Cooke, Jon, Komorowski, Thad, Shakarian, Pietro, and Tatay, Jack. "1948". The Walter Lantz Cartune Encyclopedia.
Mayerson, Mark. "Animator identifications"
Ad blocker interference detected!
Wikia is a free-to-use site that makes money from advertising. We have a modified experience for viewers using ad blockers

Wikia is not accessible if you've made further modifications. Remove the custom ad blocker rule(s) and the page will load as expected.