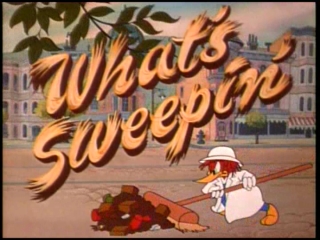 What's Sweepin' is the 45th animated cartoon short subject in the Woody Woodpecker series. Released theatrically on January 5, 1953, the film was produced by Walter Lantz Productions and distributed by Universal International.
Woody is a street sweeper and gets into trouble with Officer Wally Walrus. He tries to get even for Wally throwing a banana peel on the sidewalk. He steals the cop's uniform and gets into the Jingling Bros. Circus because he is wearing it. Wally tries to get in, but he gets thrown out. He sneaks in under a tent, and Woody gives him a merry chase. Wally disguises himself as an elephant to catch the bird.
What's Sweepin' was the first and only time Wally Walrus speaks regularly since the studio reopened in 1950. The walrus, like Woody himself, had otherwise become virtually silent during this period, with the occasional dialogue line or two cropping up.
References
Edit
Cooke, Jon, Komorowski, Thad, Shakarian, Pietro, and Tatay, Jack. "1953". The Walter Lantz Cartune EncyclopediaTemplate:Rs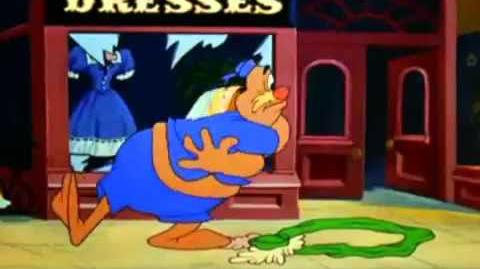 Ad blocker interference detected!
Wikia is a free-to-use site that makes money from advertising. We have a modified experience for viewers using ad blockers

Wikia is not accessible if you've made further modifications. Remove the custom ad blocker rule(s) and the page will load as expected.