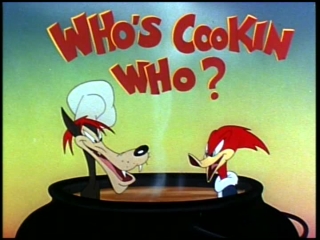 Who's Cookin' Who?
is the 17th
animated cartoon
short subject
in the
Woody Woodpecker
series. Released theatrically on June 24, 1946, the film was produced by
Walter Lantz Productions
and distributed by
Universal Pictures
.
Who's Cookin 'Who? was very similar to both Pantry Panic and The Redwood Sap, however, there are subtle differences between the scripts of three cartoons.
While in Pantry Panic birds take the route south to escape the rigors of winter and Woody Woodpecker is hampered by the weather, in this and 'Redwood' Woody is punished for his irresponsibility and his lack of concern for reserve supplies.
Moreover, in Pantry Panic, the character Woody wanted to eat was represented by a cat, while in this cartoon, Woody's opponent is a wolf. In Redwood Sap he had no rivals.
Despite these differences, all three cartoons have starvation and trying to survive their primary focus.
Ad blocker interference detected!
Wikia is a free-to-use site that makes money from advertising. We have a modified experience for viewers using ad blockers

Wikia is not accessible if you've made further modifications. Remove the custom ad blocker rule(s) and the page will load as expected.