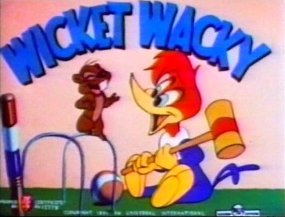 Wicket Wacky is the 34th animated cartoon short subject in the Woody Woodpecker series. Released theatrically on May 28, 1951, the film was produced by Walter Lantz Productions and distributed by Universal International.
There is no director's credit for this film. Lantz himself has claimed to have directed Wicket Wacky, but does not receive on-screen credit.
Woody began wearing yellow gloves in Wicket Wacky. This change would remain through Woodpecker in the Rough when the white gloves were restored.
There is no dialogue in this film. The gopher's gibberish/"talking" was in reality sped up excerpts taken from the 78rpm comic recording by Joe Hayman entitled "Cohen on the Telephone" (Columbia A1516).
In this cartoon, Woody Woodpecker and Gary Gopher are arguing about the croquet course. Woody paid 5 dollars for admission, and is not about to waste the other five bucks for a Drooler's Delight. But Gary has lived here since it was built. Chaos insues as Woody and Gary battle for the course.
References
Edit
Cooke, Jon, Komorowski, Thad, Shakarian, Pietro, and Tatay, Jack. "1951". The Walter Lantz Cartune Encyclopedia.
Ad blocker interference detected!
Wikia is a free-to-use site that makes money from advertising. We have a modified experience for viewers using ad blockers

Wikia is not accessible if you've made further modifications. Remove the custom ad blocker rule(s) and the page will load as expected.