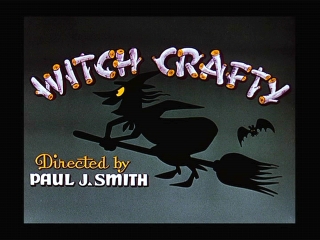 Witch Crafty is the 60th animated cartoon short subject in the Woody Woodpecker series. Released theatrically on March 14, 1955, the film was produced by Walter Lantz Productions and distributed by Universal International.
Plot summary
Edit
A witch is riding her broom gaily through the night skies when she crashes and breaks the broom handle. She goes to a nearby broom factory and asks Woody (who works there) for a new one. He makes her one, but she refuses to pay the 50-cent check. Woody takes the magic broom back, and the rest of the picture deals with her attempts to gain access to the factory and get the broom without paying for it. Woody is adamant, though, and he insists that she pay for it, or no broom! Every attempt that she makes to get the broom is foiled by Woody, who outsmarts her at every turn. She tries tunneling into the factory. She becomes a hot dog saleslady, peddling firecracker hot dogs, etc. Woody switches brooms on the witch, and they won't fly. Finally, realizing that she's been outsmarted, she consents to pay for the broom. The witch digs deep into her personal belongings (a pair of loaded dice, a spare set of false teeth, a penpal photo of Frankenstein's monster and a five-cent piece). Woody insists on his full 50 cents. The witch asks to use his powder room. When she does, she finds it full of powder... gunpowder. Woody gets on the magic broom, and we end the picture with Woody flying off.
References
Edit
Cooke, Jon, Komorowski, Thad, Shakarian, Pietro, and Tatay, Jack. "1955". The Walter Lantz Cartune Encyclopedia.
Ad blocker interference detected!
Wikia is a free-to-use site that makes money from advertising. We have a modified experience for viewers using ad blockers

Wikia is not accessible if you've made further modifications. Remove the custom ad blocker rule(s) and the page will load as expected.