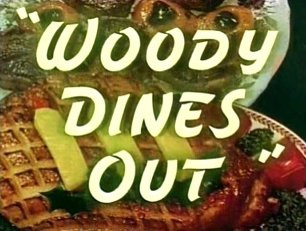 Woody Dines Out is the 14th animated cartoon short subject in the Woody Woodpecker series. Released theatrically on April 1, 1945, the film was produced by Walter Lantz Productions and distributed by Universal Pictures.
Woody walks about town and realizes that all of the restaurants are closed. He finds one store with a sign in its window that reads: "We stuff birds." He assumes that it is a restaurant when it is actually a taxidermist's shop. He approaches the counter to place his order. From his coat pocket, The Taxidermist (voice by Hans Conried) removes an ad from the Museum of Natural History announcing a $100,000 reward for a stuffed king-size woodpecker. He secretly places knock-out drops in the food he prepares for Woody. The food puts Woody to sleep, but he recovers on the cutting table. He escapes the taxidermist by climbing onto an elevator; the taxidermist falls down the elevator shaft.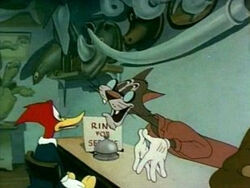 Cultural references
Edit
Frédéric Chopin's "Funeral March" can be heard in the background score as the taxidermist places the knock-out drops into Woody's food.
The taxidermist refers to Woody's soup as "blackout borscht." At the time of Woody Dines Out's release, blackouts were common among coastal regions of the United States. Borscht is a Russian dish, and the Soviet Union was a member of the Allied Powers at the time.
As Woody pilots the elevator to faster and faster speeds, the speedometer reads: Is this trip really necessary? This is a reference to the army rationing of gasoline and rubber for the war effort.
The background for the title card is two plates of food, which ties in to the cartoon name.
References
Edit
Cooke, Jon, Komorowski, Thad, Shakarian, Pietro, and Tatay, Jack. "1945". The Walter Lantz Cartune Encyclopedia.
Ad blocker interference detected!
Wikia is a free-to-use site that makes money from advertising. We have a modified experience for viewers using ad blockers

Wikia is not accessible if you've made further modifications. Remove the custom ad blocker rule(s) and the page will load as expected.