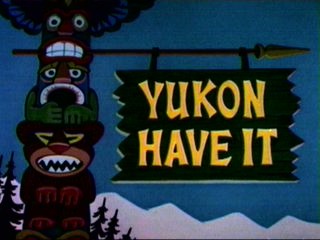 Yukon Have It is a 1959 short starring Chilly Willy.
A hungry Chilly Willy notices the good food the mounties get and enrolls for the job. Unfortunately, his enrollment photo is placed over a wanted poster for criminal Caribou Lou and officer Smedley presumes Chilly is Lou and gives chase. Often, Smedley ends up asking the real Caribou Lou for directions (with Lou always explaining, "Him go that-a-way."). Smedley chases Chilly to a buffalo crossing where he is chased by the inevitable buffalo herd. After eluding Smedley long enough to capture the real Caribou Lou, Chilly is deemed an honorary Mountie replacing Smedley whom Chilly tosses a chicken bone to.
Ad blocker interference detected!
Wikia is a free-to-use site that makes money from advertising. We have a modified experience for viewers using ad blockers

Wikia is not accessible if you've made further modifications. Remove the custom ad blocker rule(s) and the page will load as expected.